Anne, at In Residence, hosts a linkup on the first Wednesday of every month and invites readers to share a few things that they are currently up to. Be sure to head over to Anne's blog and see what everyone is up to this month.
loving – my new water bottle. I had gotten a 32 oz. HydroFlask last year and have liked it, but then I saw some great reviews on this 32 oz. bottle from Takeya and it went on sale (almost half off), so I decided I wanted to try it and I'm glad I did. I like it so much better than my HydroFlask! The bottom has a silicone base so it doesn't make the "banging" sound when you set it down and it helps me to not be so scared of scuffing the bottom. Also I really like the carrying handle and the drinking mouthpiece a lot better than the HydroFlask. It's hard to explain the difference, but just trust me it's better. Also, the pretty pink color just makes me happy! I bought mine off Amazon, but when I was in Target the other day I noticed that they sell this brand as well.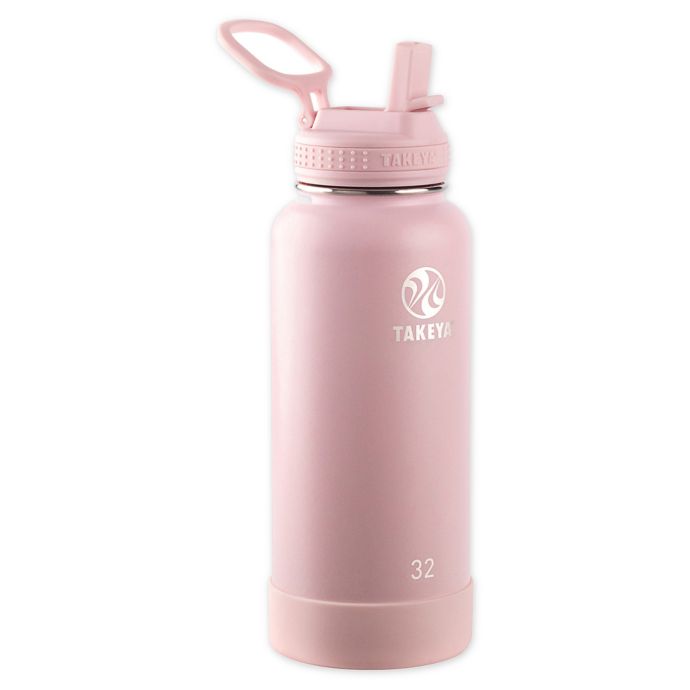 reading – a lot of cozy reads. Check out my post on what I read in January. One thing I am trying to do a better job of this year is reading more non-fiction (spoiler alert – did not happen in January). I have a few non-fiction books I want to read (i.e. parenting, self-help, etc…) and I just find myself picking up my fiction books instead. I need to make a conscious effort to set aside a few minutes a day and read some of my TBR non-fiction books.
remembering – as I wrote in my "What's Up Wednesday" post for January, I have been remembering when it was easy to go to a restaurant and sit down to eat. I'm getting to the point where I am ready for a date night to go somewhere to eat. We have not done that in about a year and usually I'm fine with just getting take out and bringing it home, but I am just ready for a date night to go somewhere. I'm starting to sound like I'm old…remember the olden days when we used to go….fill in the blank. Ha!
sharing – my bed. We are still struggling with a not-wanting-to-go-to-sleep 3 year old. Since around the first of January, we have been struggling with Claire and her going to sleep. She just will not go to sleep and there for a little while the only thing that would work was if she could lay down with me in our bed. Of course if little sister gets to do that, then big sister should get to as well…so I've been sharing our bed with two little girls and daddy sleeps upstairs. We have tried melatonin (with pediatrician's approval)…we have tried sitting by her holding her hand…we have tried sleeping with sister in her bed…we have tried a chart and marking nights off to get a prize…you name it we have probably tried it. It's not that she is scared or anything like that, she genuinely just does not like to close her eyes and go to sleep. She will tell us, "I don't like going to sleep" and will lay there for over an hour and never close her eyes. Any tips or tricks would be greatly appreciated!
wishlisting – oh I have a lot of things on my wishlist. This is my saving grace on not spending money. I have a running wishlist of things on my phone and when I see something an "influencer" suggests and I want it, I put the link on that "wishlist" to come back at some point and possibly look at ordering. Well…that's great and everything, but the problem is that I never seem to go back to look at the item and when/if I do, it is usually been too long and it's sold out or out of season by then. So that's what I call my "wishlisting strategy"…add things to the wishlist with the intention of going back to look/order and then just never remember to go look at the wishlist. I have saved a bunch of money by using this strategy. – Hmmm…I wonder if this could be something I market and teach people and earn my fortune from!?!? Just kidding, just kidding…
Anyways, sorry if this seemed a little scattered or a little too silly. It's late and my brain is tired. I'm off to fix a lunchbox for a first grader and then go to bed!
Join in the fun next month when we will be talking about what we are currently…
Until next time…keep it simple!
Lindsey